Best African Hair Braiding Salons in San Antonio TX
Are you in San Antonio, TX searching for professional hair braiding services? Virgo Hair Braiding Salon has the best African hair braiders in town.
With over 5 years of experience and a commitment to customer satisfaction, we guarantee quality braids at an unbeatable and fair price. 
With us, you can rest assured knowing that we will do our best to meet and potentially exceed your expectations.
Virgo Hair Braiding Salon | African Braiders
Ready to book an appointment with Virgo Hair Braiding Salon? Get started by giving us a call or filling out our form to reserve your next spot. Our selection of hair braiding styles will cater to whatever your requirements may be.
Your Go-To San Antonio African Braiding Salon
When you want neat braids and a positive experience, look no further than Virgo. We are passionate about helping you show off your personality with our incredible San Antonio African hair braiding services. In addition to the list above, we can also do custom African braiding hair styles upon request. Let our professional team help you achieve the much needed look and feel your hair deserves.
When you need professional hair braiding services done, reach out to Virgo Hair Braiding Salon. Call (210) 596-2909  to book an appointment or for information regarding any of our services. We are currently serving San Antonio, Converse and surrounding areas in Texas.
When it comes to finding the perfect African hair braiding salon in San Antonio TX, look no further. Our expert and skilled braiders specialize in creating stylish yet beautiful braids that will turn heads!
No matter your style preference – be it box braids, micro braids or crochet braids – our salon provides a range of braid styles tailored specifically to each customer. On your initial visit we strive to create an intimate yet welcoming space where we ensure a relaxed and welcoming environment so that we may discuss how best to achieve your desired hairstyles.
Our friendly staff will take the time to sit down with you and discuss your hair goals, so we fully understand exactly what you want from us. Whether it be to enhance natural locks or try something completely new, our professional hairstylists are here to guide the way through.
Braiding hair beautifully while protecting it is our art form; and we pride ourselves in using high-quality products and techniques that put health and wellbeing of locks first.
Rest assured that when you leave our salon, your head will be full of stylish braids that not only look fashionable but also help stimulate healthy hair growth. Our portfolio speaks for itself – take a look at photos from some of our previous work with clients who left feeling fantastic!
From intricate braid designs to effortless simplicity, our extensive variety of braid styles offer something suitable for every taste and need. Be it an eventful gathering or casually strolling about town – our professional hairstylists know just what is required to craft beautiful styles that make every woman feel like royalty!
At our hair salon, affordability is of utmost importance; rest easy knowing our prices are both fair and cost effective.
Work with a hair braiding salon that doesn't compromise style or quality and set up an appointment for our box braids in San Antonio TX! We look forward to meeting with you!
The Best Budget-Friendly Hair Braiding Services To Meet Your Needs.
When you visit Virgo Hair Braiding Salon, you can expect excellent service and results at an affordable price. We offer a wide variety of braiding styles that last and help promote hair growth. From Senegalese twists to knotless box braids, we got you covered.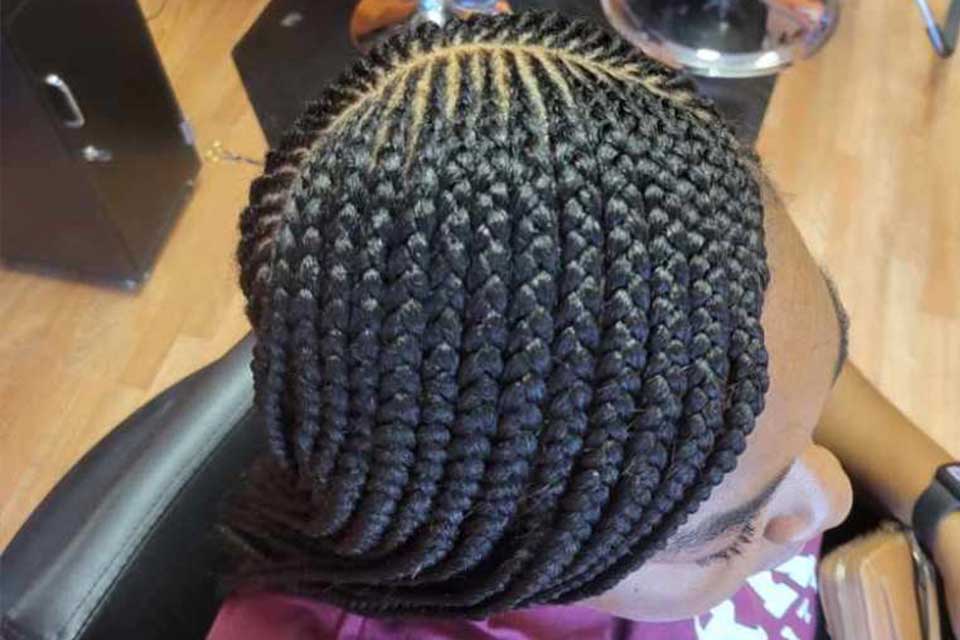 Are you searching for an exciting hair style? Why not give African braiding styles a try?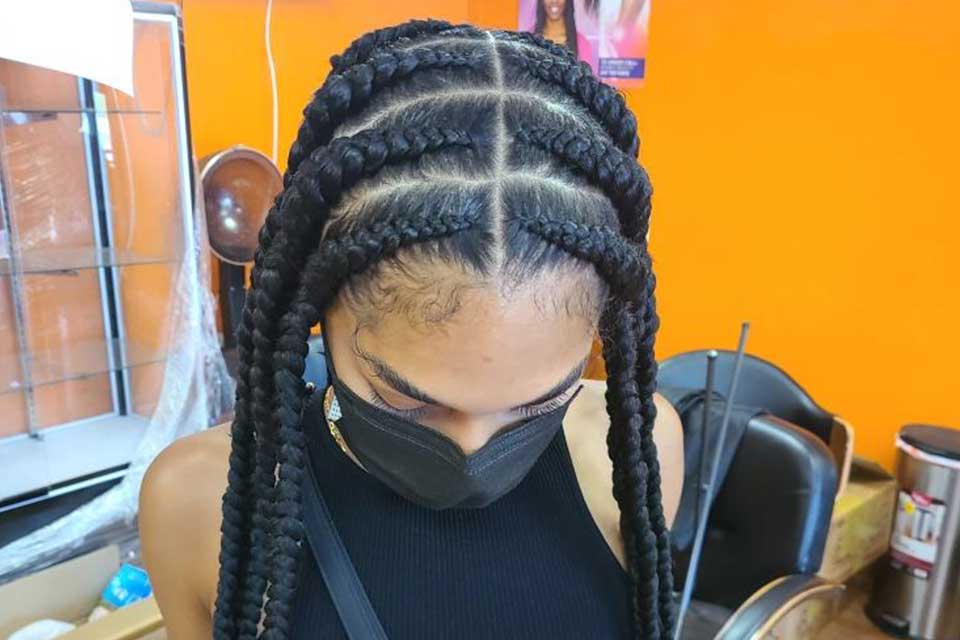 Box braids are a popular braiding style featuring three stranded braids with delicately squared off ends.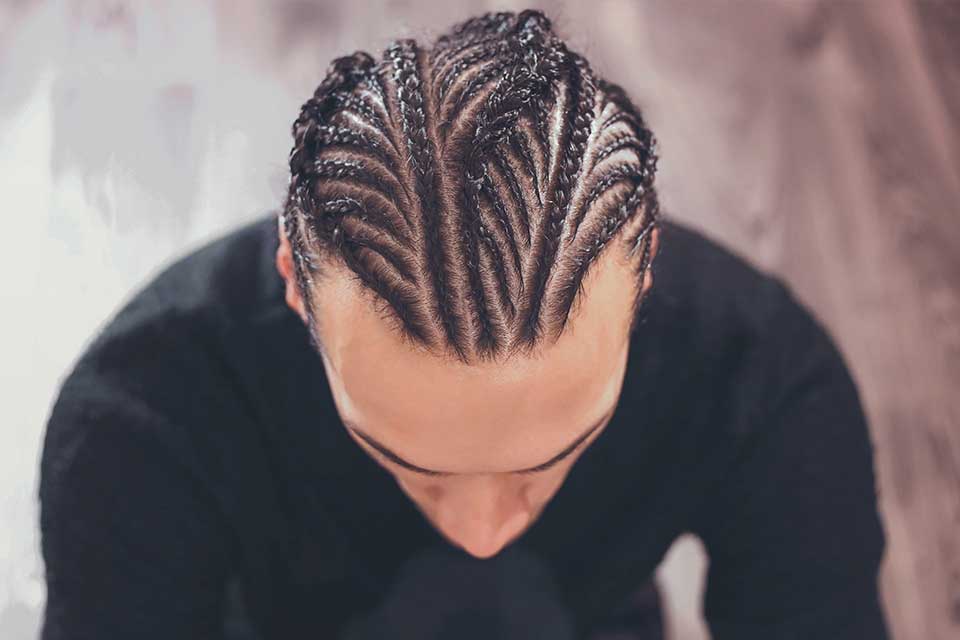 Cornrows are a very traditional type of hair braids among men. Easy maintenance and last weeks.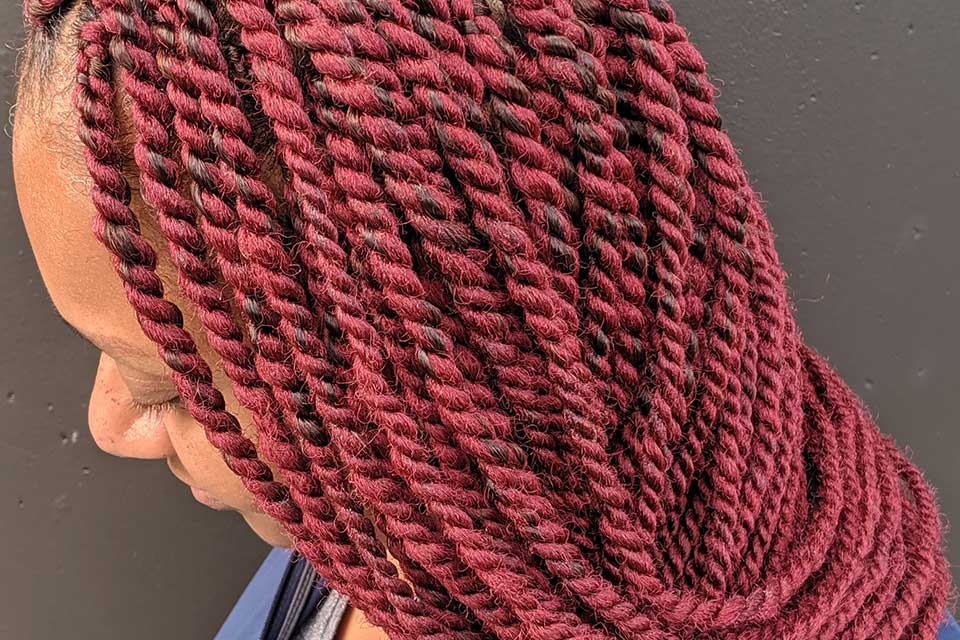 A protective hair style that twists two strands together and is usually shoulder length or shorter.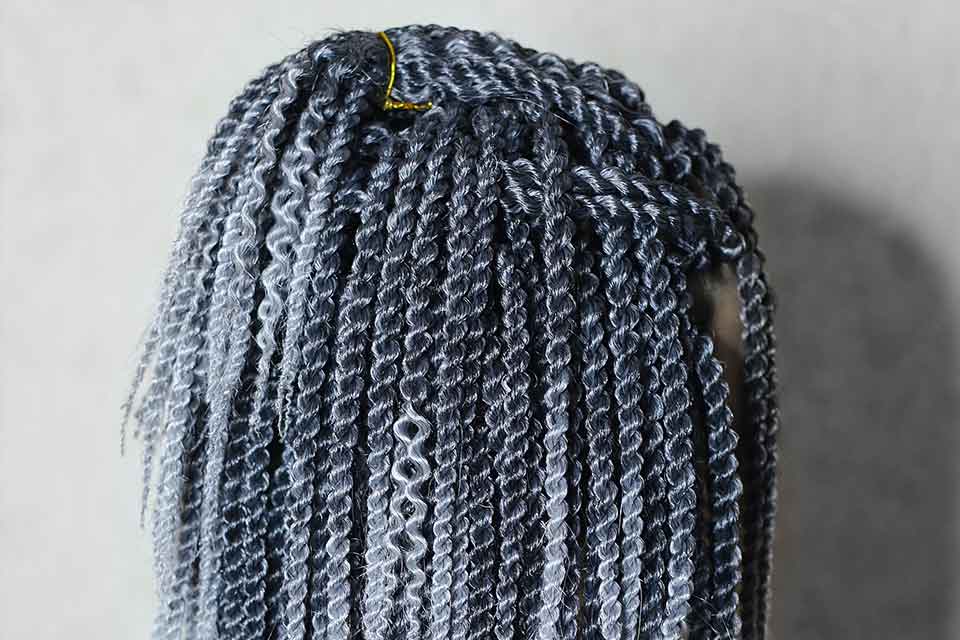 Senegalese twists are versatile, easy to maintain and can be customized with different colors of synthetic hair.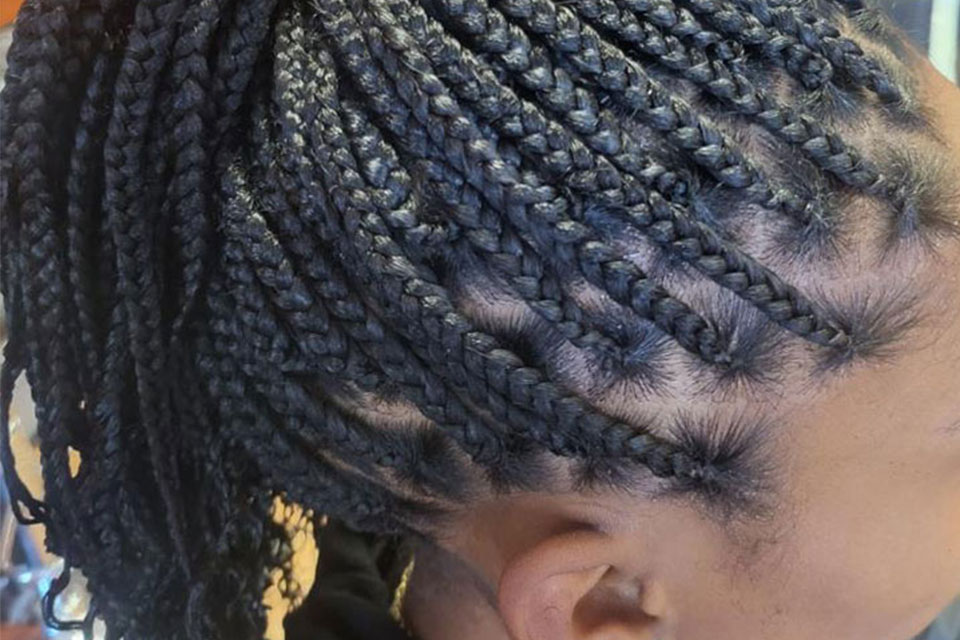 Knotless braids are created by weaving extensions into the natural hair without the use of any knots.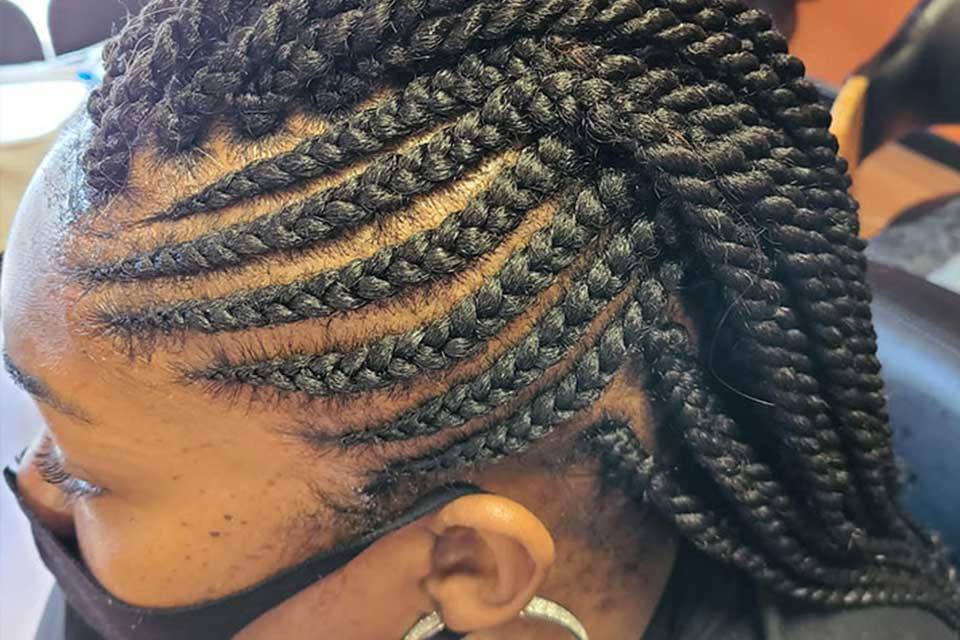 Goddess braids are a beautiful, timeless hairstyle that combines classic and modern techniques to create intricate patterns.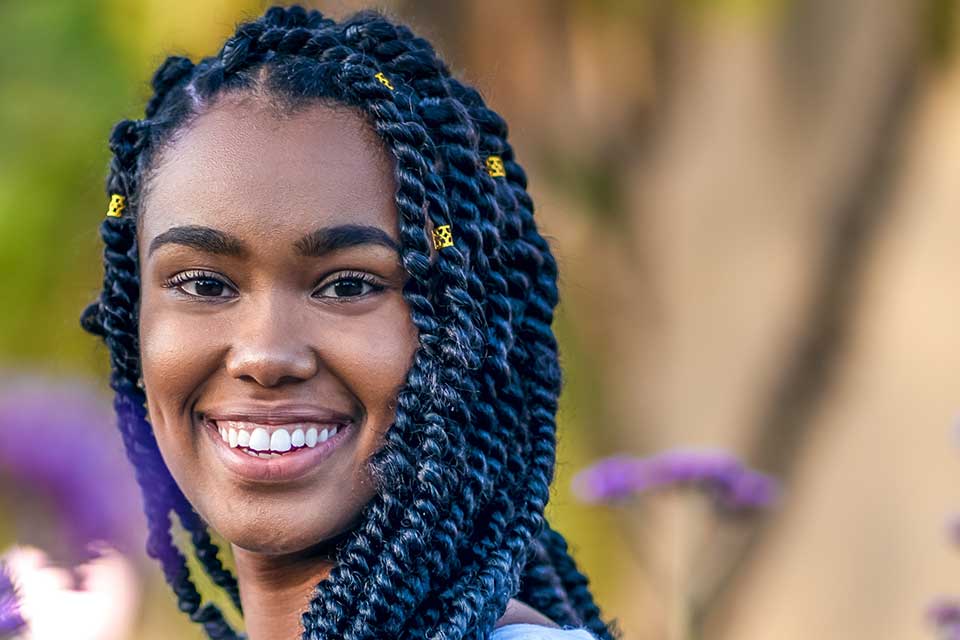 Passion Twist Braid is an effortless hairstyle that combines braids and dreadlocks for a stylish, easy-to-maintain style.
What is hair braiding & when did it begin?
Art form that originated from West Africa and spread worldwide over hundreds of years, perfected over generations by passing down techniques from master to apprentice over generations.
Braiding hair involves braiding it into intricate patterns and styles that stand out, such as three-stranded braids with small squared off parts, micro braids, box braids, goddess braids and cornrows.
At Virgo African Hair Braiding Salon in San Antonio TX, our professional braiders offer an array of African braiding services from traditional to classic and modern looks. Our professional hair braiders in San Antonio are skilled at working with thick or thin locks ensuring a positive experience every time! You will leave here feeling satisfied.
Some of The Benefits Getting African Braids Can Provide.
They improve the appearance of the hair
Hair braiding is an effective way to improve the overall appearance of your hair. It can give you a unique look and feel that suits your type of style.

They can also add volume, length, and thickness to the hair which can make it look fuller and healthier. Braids also last longer than other hairstyles, so you can enjoy your new look for weeks or even months if taken care of properly.

Get the unique edge with braids tailored to your personality, allowing you to stand out in any crowd!
They add a unique style to your hair
Hair braiding has been a timeless practice that adds style and flair to hair for centuries. Braiding techniques can range from simple single braids to complex designs such as box braids, cornrows, and crochet hair - the possibilities are endless!

These styles can be used to achieve a range of looks, from bold and edgy to soft and natural. Braiding not only adds style and flair to your hair, but it also allows for deeper expression of one's individuality.

Braids can even shield the hair from damage such as breakage, split ends and heat damage, keeping it looking and feeling healthy.

Hair braiders offer both an eye-catching aesthetic and excellent protection, making them a great choice for men or women.
They help keep your hair out of your face
Braids helps keep hair out of the face for several reasons. First, cornrows, box braids, and other hairstyles can protect the hair from wind and other elements.

By tightly weaving the hair together, it helps hold the hair in place and minimize the amount of hair flying in your face.

Additionally, protective braiding such as cornrows, box braids, and three-stranded braids can be worn for weeks at a time.

Since these styles are often low maintenance, they are perfect for those who lead active lifestyles and need a hairdo that can keep up with them.
They can be combined with other braiding techniques
For example, box braids can be combined with either a perm or weave to give your hair an even fuller and voluminous appearance.

Combining hair braids with other styling methods is an excellent way to create a unique style that's sure to turn heads!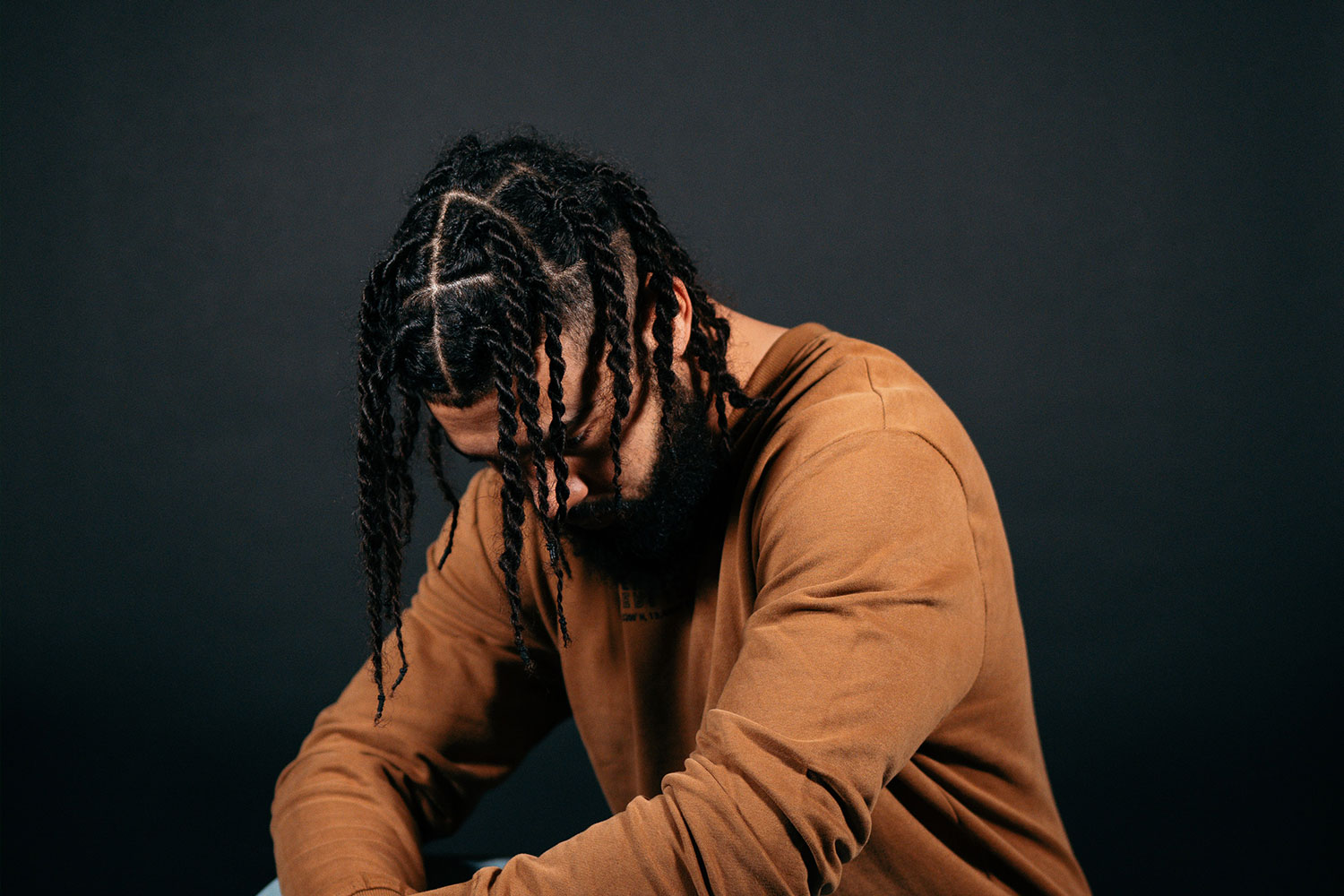 Ever found yourself wondering: do braids help grow hair? You're not alone in this hair-raising quest for knowledge. I've heard this question countless times from ...
Virgo Hair Braiding Salon Reviews
Thinking about getting hair braids done by Virgo Hair Braiding Salon in San Antonio TX? See what some of our customers have to say about us.
Frequently Asked Questions
How much should you pay to get your hair braided?
The cost of hair braiding depends on its complexity and duration; prices typically range from $100-300; always consult with a stylist to obtain accurate pricing details.
Can you still get braids with alopecia?
Yes. Certain styles of braiding may be less harmful to those with Alopecia and could potentially help. It is advised to consult a professional in order to prevent further hair loss and ensure optimal hair growth.
On average, braids should last between four and eight weeks with proper care and maintenance. Achieve maximum longevity from your braids by visiting us today to learn more!
What braiding hair is best?
The ideal braiding hair depends entirely on personal taste and desired look, though synthetic fibres such as Kanekalon or Toyokalon tend to be popular due to their durability and affordable nature.
Which last longer, box braids or knotless?
With proper care, both styles may last up to 8 weeks with proper braid care; knotless braids may prove more comfortable due to being less bulky at their roots and potentially creating less tension on the scalp.
How much do box braids usually cost?
Box braids typically range in cost between $150 and $400 depending on their size, length and location - for more accurate pricing details contact your stylist directly.
What is African hair braiding called?
African hair braiding comes under many names; cornrows, Bantu knots and Senegalese twists are among them.
If you are in the San Antonio or Converse area and in need of full braids or just a touch up, stop by our hair salon today.